We will be hosting two symposia at the upcoming meeting of the ESPP in Leipzig, which will be held online from August 30 to September 2, 2021. The first is on The Unusual suspects. What is th range of cognitive predicates? with talks by Carrie Figdor, Matt Sims and Rob Rupert. The second is on Mind, Brains, and Deep Learning, with talks by Grace Lindsay, Cameron Buckner, and Richard Evans. It's an honor and a pleasure to be able to host discussions among these wonderful inspiring thinkers.
We are very excited that both Matt Sims and J. Suilin Lavelle (University of Edinburgh) received a Postdoctoral Fellowship and an Experienced Researcher Award respectively from the Alexander von Humboldt Foundation. Matt will join our group in the summer of 2021 and Suilin in the summer of 2022.
François Kammerer (PhD) from the University of Louvain received a Postdoctoral Fellowship from the Humboldt-Foundation to join our research group. He joined us in November 2020 and will work on his book on illusionism about consciousness for the next two years.
We are grateful to the Volkswagen Foundation for granting us a covid-19-related project on "Why do people believe weird things? Bayesian Brains, Conspiracy Theories, and Intellectual Vices". This will initially last for 18 months until summer 2022.
Former team member Judith Martens (PhD) just published her first book "Doing things together. A theory of skillful joint action" with deGruyter and received an offer for a professorship for Philosophy of Psychology at the University of Antwerp. Congratulations, well deserved!
Krzysztof Dolega (PhD) was awarded the 'Preis der Gesellschaft der Förderer der RUB' for his outstanding dissertation "Content and Consciousness in predictive processing". Congratulations!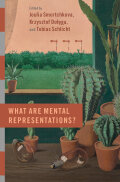 Smortchkova, J., Dolega, K., Schlicht, T. (eds.) (2021): What are Mental Representations? Oxford: Oxford University Press.
Schlicht, T., Dolega, K. (2021) You can't always get what you want. Predictive Processing and Consciousness. In: Philosophy and the Mind Sciences 2, 3.
Dolega, K., Schlicht, T. (2020) Mental content. In: Mind, Cognition, and Neuroscience: A philosophical introduction, ed. by B. Young, C. Dicey Jennings. London: Routledge.
T. Schlicht, T. Starzak (2019) Prospects of enactivist approaches to cognition and intentionality. In: Synthese doi: 10.1007/s11229-019-02361-z.
K. Dolega, T. Schlicht, D.C. Dennett (2020) Explaining or redefining mindreading? A comment on Veissiere et al. (2020). Behavioral and Brain Sciences
Upcoming Events
Due to the covid-19 crisis, all events planned for 2020 have been postponed or cancelled. This includes the Rudolf-Carnap-Lectures with Prof. Cecilia Heyes and the workshop on Perceiving Agents: Self and Other.
We have now decided on new dates for the workshop on the Metaphysics of Experience with Alex Byrne, Tim Crane, Kati Farkas, Laura Gow, Alex Grzankowski, Heather Logue, Albert Newen, David Papineau, and Umrao Sethi. It will take place in Bochum in person January 13-14, 2022.